Book: The Awakening by Kate Chopin
Finished: February 2009
Pages: 180
Challenges:
** A-Z Challenge
** 18th & 19th Women Authors
** Read and Review
** 20 in 2009
** New Author
** Winter Reading
** Victorian Challenge
** Themed Reading Challenge




First Sentence: "
A green and yellow parrot, which hung in a cage outside the door, kept repeating over and over: Allez vous-en! Sapristi! That's all right!
"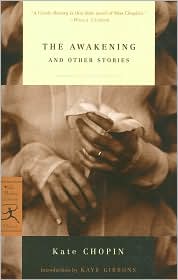 Last Sentence: "
There was the hum of bees, and the musky odor of pinks filled the air
."
This is a classic, first published in 1899. It is considered a precursor to the modern feminist movement. Edna, our married protagonist, feels herself falling in love with a young man not her husband while she and her family summer vacation at a small seaside resort. She senses he has awakened in her new feelings and thoughts she has never discovered about herself before. When she returns home she proceeds to re-discover herself by systematically walking away from the trapping of her adult life: her social position, motherhood and her role as a wife, by moving herself to a small little cottage. After being away for several months, her young lover makes an appearance back into her life, only he is not able to come to terms with her new found freedom and seems to be caught in all the traditions found in "polite" society. Unable to commit to Edna, she becomes hopeless.
Definitely not a cheery little book. But a book which takes us back to the days when women were still considered property and tools to help bring more success to the husband. There were no choices for a woman to make in society and if one did not fit into the "box" society created for women, they would naturally be left to lead a life of frustration and hopelessness.
A quote from page 259:
"It sometimes entered Mr. Pontellier's (the husband) mind to wonder if his wife were not growing a little unbalanced mentally. He could see plainly that she was not herself. That is, he could not see that she was becoming herself and daily casting aside that fictitious self which we assume like a garment with which to appear before the world."
From Wikipedia:
Immediately after its publication, reviewers frequently denounced the "unwholesome" content of this book, while simultaneously acknowledging that the writing style was outstanding. It was also condemned due to its sexual openness. The harsh reaction to the book probably was the determining factor in the publisher's decision to stop publication after only a single printing.
After its "rediscovery" in 1969, the book has been often praised for its treatment of women's issues, and for its lyrical style.